Discover How to Beat Your Stubborn Fat Loss Plateau With Proven "Metabolic Workout Finishers" that Helped Certified Turbulence Trainer Mike Whitfield Lose Over 100 Pounds of Fat
Get the Complete 40 Metabolic Finishers Workout and Nutrition Package for Just $29.95 - This Week Only
(And you don't even have to give up your favorite workouts)
Hi,
I'm Mike Whitfield, Certified Turbulence Trainer. I'm a personal trainer in Acworth, Georgia, and now known by my clients as a 'fat loss wizard' and across the fitness industry as a specialist in 'metabolic workout finishers'.
But believe it or not, I was once almost 300lbs, wearing size 46' jeans.
My programs and Metabolic Workout Finishers have helped people lose as much as 12lbs of fat in just 2 weeks, while I personally have lost over 100lbs.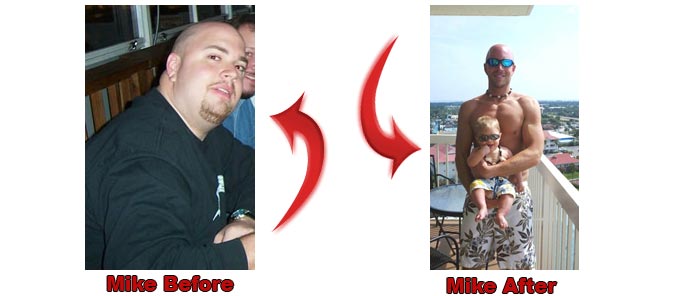 What Exactly is a 'Metabolic Workout Finisher'?
As you probably know, I'm certified as a Turbulence Training trainer, specializing in fat loss without boring cardio.
But my clients wanted something different from traditional interval training. They wanted a way to incorporate interval training ' and its awesome fat-burning power- but without having to resort to the treadmill, elliptical or bike.
So I started writing Workout Finishers for clients, and over time, I got more creative in their design. The more creative I got, the better results my clients got.
They enjoyed the challenge of these Workout Finishers, but they enjoyed their results even more Ķ but I have since come up with hundreds of 'Finishers', and the ones you'll find in Workout Finishers are those that got my clients the BEST results.
That's because I keep a record of ALL the Finishers I ever write for clients and base them on the awesome results they get. I call it, 'lab work'. And after hours upon hours of studying and researching each of their results, I have finally designed a program that works synergistically with just about ANY sensible workout program you may be currently on.
I am what you call a 'Workout Finisher Artiste' and I dedicate all of my free time to figuring out how to help you burn a ton of calories in a short amount of time at the end of your workout. Heck, you might even be able to out-train a bad diet with these metabolic moves. Back in the day, it would have helped me ...
You See, I Made a LOT of Mistakes In The Past
Heck, I'm almost ashamed to admit this, but ...
My breakfast used to be iced honeybuns and a soda. I would easily put away a super-sized bag of chips in a day. And if I were to estimate how many calories I was bringing in, I would say it was around 8,000. Ridiculous.
BUT I put that behind me ...
I started eating right and exercising regularly and dropped 75lbs in six months! Since then, I have actually dropped another 35lbs using my unique, fat-burning Workout Finishers. And I'm not the only one.
"Everyone Tells Me I Look at Least Ten Years Younger and Feel Great."

'I began working with you when I was fifty nine years old and weighed 231 pounds. I am only five foot six inches tall. Needless to say I was obese and definitely out of shape. I started working out with you as my trainer Jan. 3rd 2006. By May, I had lost 66 pounds and was power walking three to four days a week. I just wanted to let you know I could not have done it without you! I had a neurological/muscular weakness disease called MyastheniaGravis for five years. Fortunately, I have been in remission for two years. So naturally my muscles were very weak from years of little use. You developed a program to strengthen my muscles and advised me how to exercise the correct way. Through your expertise and wonderful encouragement, I feel "we" have achieved so much. Everyone tells me I look at least ten years younger and feel great. You are such a wonderful motivator, encourager and so knowledgeable for such a"special" case as mine. Words cannot express my gratitude and appreciation for truly saving my life. Thank you and may God continue to bless you in helping other people.'

- Lori
'I wanted a change of pace from the regular routine that I was doing. I really enjoyed it. Shocked at how short the work-out was (which made the results that much more impressive). I lost 5 lbs and trimmed 6% body fat.'

- Jason
A total of 32 pounds and 24.25 inches torched! I had to buy a new wardrobe

A total of 32 pounds and 24.25 inches torched! I had to buy a new wardrobe ' workout clothes and all. As I tried on clothes I had to keep returning to the rack for a SMALLER size. Much to my surprise I was back to my 'normal' size. My walking speed is what I used to jog. I have phenomenal strength. What a wonderful feeling! These achievements couldn't have been done without your help, literally. I tried and failed several times before I reached out to you. Initially, I chose to work with you because of your personal weight loss success and credentials. The more we worked together I saw your genuine passion and talent for nutrition and fitness. Your enthusiasm for this profession and seeing people exceed their goals radiates from within. Even today, when you see me in the gym you continue to encourage me and applaud the additional achievements I've made on my own. Only someone that genuinely cares about the individual would do all that you do for your clients. I've lost an additional 13 pounds on my own using the techniques I learned from you. All of the people that surround me each day are inspired and in awe at how far I've come in such a short time. I am now an inspiration to so many and pass along your wisdom as encouragement.

Many thanks,

- Nancy
Greg Lost 30 lbs and Over 10% Body Fat

Mike has been a health and fitness inspiration to me for several years now. He was instrumental in helping me lose weight and get back in shape about 3-4 years ago. I had ballooned to almost 200 lbs and I knew I needed help. Mike was there for me and helped me with nutrition, supplements and a workout program that enabled me to lose 30 lbs and reduce my body fat by more than 10%. About a year ago I had gained a few extra pounds so I reached out to Mike again for help and he was there. I had entered a weight loss competition and I really wanted to get results. He put me on a vigorous regimen that helped me get back down to 170 lbs. with 13% body fat. Since then my weight has remained about the same but my body fat percentage has dropped to about 12%. I'm still going strong and I owe a lot of that to Mike and his commitment to living a healthy life. If you don't believe me just ask him to share his personal testimony!

- Greg
'Mike's workouts are fun and energetic! He keeps your body challenged, so that you avoid that plateau that we all dread.'

- Trish G.
I Went from a Size 22 to a Size 14!!

"Last year around November my weight topped out at 210lbs. I was feeling miserable and resigning myself to the fact I would be that big forever. I was getting stress fractures on my feet from the excess weight I was carrying. I finally had enough and emailed Mikey for help. It was exactly that; in the subject header I put "HELP!!!!" We've known each other for a long time and he's seen me at my smallest and now it was just the opposite. I asked him what I could do to get rid of this weight. I started on this new journey to lose this excess weight and the first week I lost 10 lbs!! The second week I lost 7lbs and the third week I lost about 5lbs. By the end of December I had lost 30 lbs!! I couldn't believe it!! My metabolism shot through the roof and I wasn't as winded when I did things. Another thing; I have asthma, so when I lost this excess weight I had a hard time breathing. As I lost the weight, my symptoms subsided. Taking things slower the following month, I lost another 10 pounds by the end of January of 2009. I went from a size 22 to a size 14!! Since then I was able to keep the weight off. All I can say is Mikey I love ya!! You helped me get my life back into shape and I feel SO much better!!"

- Lorrie
My Self-Esteem has Increased Tremendously

'I was so busy being a single mom, working full time, and going to school but somehow you gave me a plan that worked with my schedule and gave me the results I wanted. My self esteem has increased tremendously and I have a better quality of life now.'

- Mandy G.
I Lost Over 65 lbs. I Feel Like Doing Things That I Was Not Able To Do Before.

It all started when I wanted to go on a mission trip to Ecuador. I realized I could not even bend over to pick up a two by four easily. I just want to tell you how much you have done for me. Starting out at 330 I needed to make a drastic change in my life. Last year you saw me lose over 65 lbs. Not only do I feel so much better I feel like doing things that I was not able to do before. You started me out on a the right types of foods and a exercise program. I look forward to going to the gym every morning. By you changing up my regiment every few weeks I am toning up some muscles that were dormant for a long time. Your attitude, advice, and encouragement has made it possible. My plan is to lose over 100 lbs. Seeing what you did for yourself was a motivation for me as well. It has truly been a pleasure and I would highly recommend your skills services to anyone. Thanks again!!

- Bob
I Wore Clothes That Were Too Big On Me On Purpose
After I lost the initial 75lbs, I knew I wasn't where I needed to be. I wasn't confident in taking my shirt off.
I tried every diet fad in the book before discovering that all I needed were minor tweaks to both my workouts and my nutrition. Then my belly fat was disappearing before my eyes. It was awesome.
My workouts became shorter, and yet my results were getting better. I kept thinking, 'FINALLY!'
You Don't Have To Work Out 6-7 Days A Week...
You just need a way to work out smarter.
When I first prescribed workout finishers to clients, as well as myself, the results were through the roof. I'll be honest Ķ
I was surprised.
The people using my programs were becoming gym rats - they were getting addicted to working out ' and so they were busting plateaus left and right. But let me tell you Ķ it takes HARD WORK.
What You'll Discover With Workout Finishers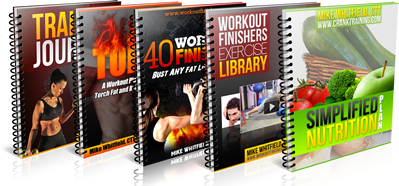 Simple tweaks to your program that burn a TON of fat in just minutes and last for hours ' and all without ever doing boring cardio again
How to stop muscle loss while losing body FAT
Learn how Workout Finishers can be used with your current program to double results
Meatheads will discover ways to gain muscle AND not gain fat
How to tailor your Workout Finisher to match YOUR fitness level
How to do 'intervals' with literally NO equipment
Components: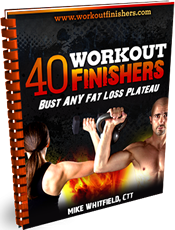 Component 1 ' 40 Workout Finishers Manual
($247 value)
You get 40 unique Workout Finishers to torch fat in minutes. This manual completely covers my theory behind finishers and interval training as well as why Finishers work. Think about it. Let's say you use 3 different finishers a week each month Ķ that's over year's worth of Finishers!! It's worth well over $247.
By the way, you gotta try #40 Ķ it's a BEAST.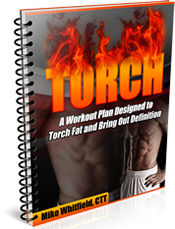 Component 2 ' "Torch" Fat Loss Program
($47 value)
I have designed this program to specifically go with the Workout Finishers program. So at your fingertips is the complete blueprint to blasting fat and getting ripped. You will know exactly how many reps and sets to do with each workout, including video walk-thrus. Be prepared to look different at the end of the 4-week program.
Component 3 ' Workout Training Log
($47 value)
With the workout program, you get a workout log to mark your progress. This way you will know exactly what to go after in each workout. Simply print off and take it with you.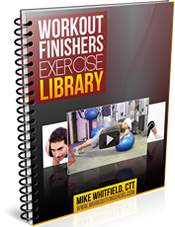 Component 4 ' Workout Finishers Exercise Library '
($47 value)
With every single finisher, you get a VIDEO walk-thru of all the exercises, showing you how to perform each exercise properly to give you maximum benefit. Pictures are good, but videos are even BETTER.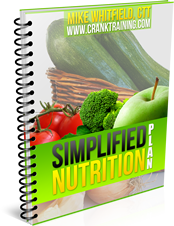 Component 5 ' Simplified Nutrition Plan
($99 value)
If you are confused or need some direction with nutrition, this guide will blow you away with its simplicity. Dieticians charge hundreds of dollars for a nutrition program of this caliber, but you get it free.

Frequently Asked Questions

Q: Can I use these as my primary workout?

A: Yes, there are SOME Finishers in the product that can be used as a stand-alone workout.

Q: What if I'm not in shape or a beginner?

A: For every single Finisher, I show an easier version. I even tell you how to use components of the original Finisher and the easier version to really tailor to your fitness level.

Q: Am I too old to do this program?

A: I have a 73-year old in my fitness boot camp that I showed how to tailor the boot camp to her fitness level. Now she runs circles around some of the younger ones in the camp. Does that answer your question?

Q: What if I am not currently on a workout program?

A: No problem, I included a 4-week program to get you started. And if you want to stick with my programs, you can do 12 more weeks worth of programs (a total of 16 weeks). I also make recommendations in the Workout Finishers product

Q: How long do the Finishers take?

A: It really varies, but they are short. It can be as little as 3 minutes.

Q: Are Workout Finishers just for men, or can women do them, too?

A: Workout Finishers are a great tool for both men and women Ķ if you're looking to bulk up, then this program is not for you.

Q: Will I need special equipment to perform these?

A: No, you can use these with a basic gym membership or a home gym

Try Workout Finishers for 60 days

I'm not the kind of guy that will say this is the 'one all, be all' program. There are great programs out there. But how much are you willing to invest (both time and money) to figure that out? There is no risk with this program. Try Workout Finishers for 60 days. If you don't like it, you get your money back. Period.

I will see you at the FINISH,


Mike Whitfield, CFT, CFNC, CTT
Author of Workout Finishers
P.S. Remember, you have a 60-day money-back guarantee. If you invest in this program and you find it is not for you, I will refund every single penny back to you Ķ no problem
P.P.S. Remember, the price of this awesome program will be going up, so you better grab your copy now!
P.P.P.S. Where will you be 1 week from now? 4 weeks from now? Even 12 weeks from now? You can start getting closer to your ULTIMATE goal within minutes. Start right now.
Get 40 Metabolic Finishers for Just $29.95 - This Week Only
If you have any questions about the Workout Finishers program, please email me at mike@workoutfinishers.com. Although a response is given much sooner, please allow 48 hours for a reply.